The Founder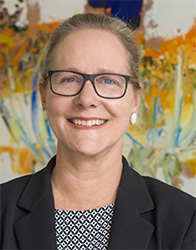 With a career in coaching and leadership development that began in the early 1990's, Julie Johnson is among the most experienced coaches and facilitators in Europe. She has worked with thousands of individuals from over 50 countries across six continents. She teaches leadership at Rotterdam School of Management's Executive MBA program.
Julie specializes in helping leaders and their teams achieve higher levels of performance through the use of a powerful coaching and feedback framework, which she has developed and refined over many years. This framework embodies the philosophy and approach of Julie Johnson Consulting B.V. Her client portfolio includes a number of Fortune 500 companies, and it spans a variety of industries, including Construction, Consulting, Education, Finance, Food & Beverage, Healthcare, Higher Education, ICT, Manufacturing, Professional Services, Sportswear and Technology.
Julie enjoys the diversity of a mixed coaching portfolio and works with professionals ranging from first-line managers to CEOs, as well as with multi-cultural teams. Her learning experiences are designed to deliver substantial and quantifiable positive changes in behavior before completion. Client feedback consistently confirms not only significant improvement in participants' leadership skills, but also their successful practical application in the workplace over the long-term. Recent examples include the creation of a coaching culture in the EMEA region of a global consumer goods company, and the development of a transparent environment where effective feedback is openly exchanged at a global financial institution.
personal
Originally from the USA, Julie has long had a passion for multi-cultural environments. She is an active volunteer member of the American Chamber of Commerce. Julie and her Dutch husband have two teenage children, and her free time is filled with family activities, fitness, cycling, piano, travel, cooking and baking and socializing with friends.
style
Julie's clients describe her style as challenging and candid, yet respectful. She combines logic and intuition to stimulate new thought and perspectives, catalyzing the efforts of individuals and teams to achieve their full potential. Clients repeatedly report that her learning approach has had a significant positive impact on their careers and their lives.