Zippo Listening Going On
How many times have you caught yourself in conversation, but not listening at all? For most of us, this happens all the time! Our connected world bombards us with stimuli every day, all day. One result may be that it is more and more difficult to truly, deeply listen to one another.
In contrast, what distinguishes a coaching conversation from other kinds of conversation is the quality of listening offered by the coach. A professional coach in a coaching conversation is ideally listening all the time. Indeed, this is what a professional coach has been trained and certified to do.
In a recent Coaching Cube, I shared the first two layers of "The 3-Layer Model of Deep Listening" (inspired by Chapter 3 in the book Co-Active Coaching). The table below summarizes the essentials of that post: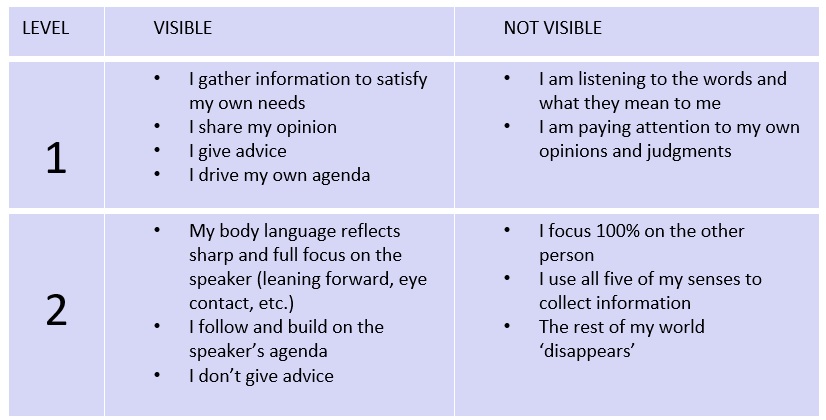 Adapted from Chapter 3, Co-Active Coaching, by Laura Whitworth, Karen Kimsey-House, Henry Kimsey-House, Phillip Sandahl.
I have since asked a number of senior executives when the last time was that they had listened at Level 2 – where 100% of their attention and focus was on the other person (and all other thoughts were gone) – and no one could remember! This made me realize that a whole layer must be missing from this model: I've created it, and named it Level 0: The Zippo Layer of Listening.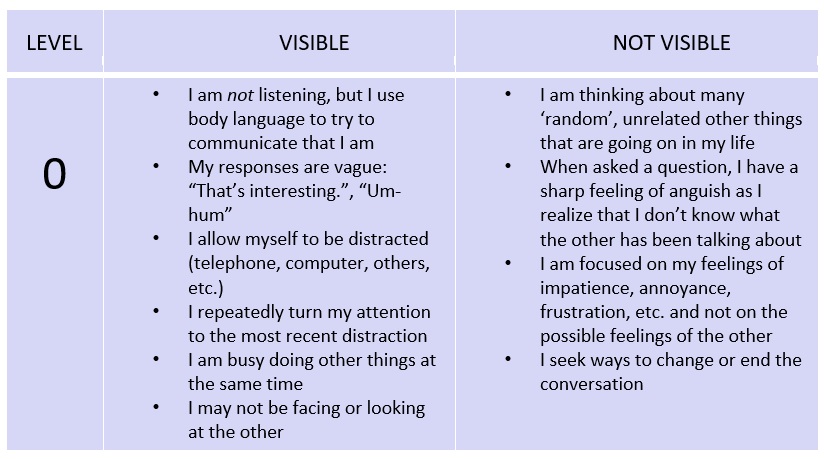 Level 1
Remember that listening at Level 1 is pretty egoistic: "It's all about me, and what I want." Here are some examples of the kinds of thoughts that might be going through the listener's mind at Level 1:
"I had an experience like that."
"Jim is really boring."
"I disagree with José. I think he should…"
"What if I say the wrong thing? I don't want to sound stupid."
Level 0
Zippo Listening, on the other hand, finds us in conversation, but not listening at all!
How is Zippo Listening impacting our corporate world today? At an individual level, people can often sense when they are not being listened to, resulting in feelings of insignificance, lack of trust, and frustration. Time is wasted because information is simply not exchanged. When this is happening throughout the organization (and it very often is), you can imagine the immense financial cost to the business!
When we coach, we must offer the rare gift of listening deeply, be it to a senior executive, colleague, friend, or family member. Awareness of how we currently listen is the first step toward listening more deeply.
Assuming that you agree that listening at Level 0 (Zippo Listening) is not a great idea, how can we counteract this in ourselves? Well, we can start by leveraging some of the basics of coaching (and some might say 'proper etiquette'):
Finish what you are doing or thinking BEFORE beginning the conversation (you can ask permission to do this)
Create a safe, private environment for the conversation (find a room and close the door, walk out of the building together, step away from others in a room)
Make sure you are both physically comfortable (satisfy basic needs like thirst, sit in comfortable chairs, position yourselves so that neither person has bright sunlight shining in their eyes)
Remove distractions before speaking with the person (close computer, turn off phone, move to an empty table, sit facing away from glass walls where people may be walking by)
Prepare yourself mentally for putting your own thoughts to the side and shifting your attention toward the other
Make a conscious decision to get yourself curious (yes, we can actually do this upon will!)
Even if we listen at a mere Level 1, the person we are speaking with will know that we have at least heard their words. That's a step in the right direction.
Listening in coaching takes place at Levels 2 and 3, fodder for a post in the near future!