Is your coaching investment in jeopardy?
By Guest Blogger: Lynne Cooper, Co-developer of the Five-Minute Coach
Creating a coaching pool within your organization makes a great deal of sense. It means having a supply of coaches on hand to support employees to overcome challenges - increasing their effectiveness and boosting productivity. It reinforces your organization's commitment to employee growth and development. It provides a group of coaches who understand the culture, system and industry in which their coachees are operating. And of course, it is more affordable than employing external coaches… or it appears to be!
No wonder then that research shows that the number of internal coaches has 'exploded' and that there are now more internal coaches than external coaches in some countries.
What does coaching supervision contribute?
Decision makers who invest in coach training don't always realise that they are putting that investment at risk by not providing quality supervision through time. Coaching supervision develops the capability of the coach, ensures that quality conversations take place and addresses ethical dilemmas.
Most internal coaches also have a 'day job'. Without support, their commitment to coaching often fades and attrition in the coaching pool increases.
Coaching supervision provides a reflective space for the coach to explore and learn. 'The process considers the entire system surrounding the supervisee and their client work and seeks to bring value to all those stakeholders connected to that work.' (Clutterbuck et al).
Supervision provides the opportunity for coaches to look at their practice from multiple perspectives. They can explore their relationship with the coachee, critical conversational moments, and difficulties they encounter. Supervision attends to the safety and well-being of the coachee as well as the resilience and capacity of the coach.
Who is taking supervision seriously?
Awareness and understanding of coaching supervision, advocated by the professional coaching bodies, continues to rise amongst coaches and coaching commissioners. Research by Hawkins & Turner in the UK in 2014 suggested that 92% of external coaches (those not employed within an organization) were receiving supervision. In contrast, only 40% of organizations with an internal coach pool were providing any supervision.
Amongst those businesses who do offer coaching supervision to their coaches, there are a variety of propositions. Some use fully trained and accredited external professional coaching supervisors; a few, like John Lewis Partnership, run their own supervisor training programme for in house supervisors. Many however, have a less robust approach to who they use and/or how much.
What kind of 'supervision' is less effective?
Katharine St John-Brooks describes scenarios such as:
Coaches meet as a group to 'self-supervise' - without the use of any supervision models or skills
The Lead Coach, an experienced coach but not a trained supervisor, supervises the other coaches
A qualified external supervisor works with the coaches, but only once or twice a year
The kind of supervision that makes the difference is executed by well-trained, accredited supervisors with considerable coaching experience, a commitment to their own development and who themselves are in regular supervision of their supervision.
Why use an external supervisor?
Supporting internal coaches to navigate the complexities of their coaching relationships is done most effectively by someone working Independently of the system in which the coaching takes place – an external supervisor.
In-house coaches generally face far more complex challenges than external coaches do. They find themselves in uncomfortable situations in which they feel compromised. Maybe they know things about the coachee's future that the coachee doesn't know, or perhaps they have a close relationship with someone the coachee wishes to discuss… or they might hear a personal disclosure that is material to the organization, which they are not allowed to share. An external perspective can be paramount.
What if your organization skips coaching supervision altogether?
If you fail to nurture and support their coaches with good quality, fit-for purpose coaching supervision you'll not maximise the value of your resources. Your coaches' growth and development will be constrained, the impact of the coaching work diminished, and the coaches' commitment to the work will be negatively affected by the complexity of working within the same organizational system in which they are coaching.
As a contributor to a report by Hawkins and Schwenke says:
'If you don't provide supervision for internal coaches…the sustainability and return on investment of your coaching initiative is in jeopardy.'
----------------------------------------------------
To know more about 'Coaching Supervision' watch the webinar recording conducted by Julie Johnson, executive coach, coach supervisor and founder of JJC, joined by Lynne Cooper, coach supervisor, executive coach and author - in an interactive presentation and discussion.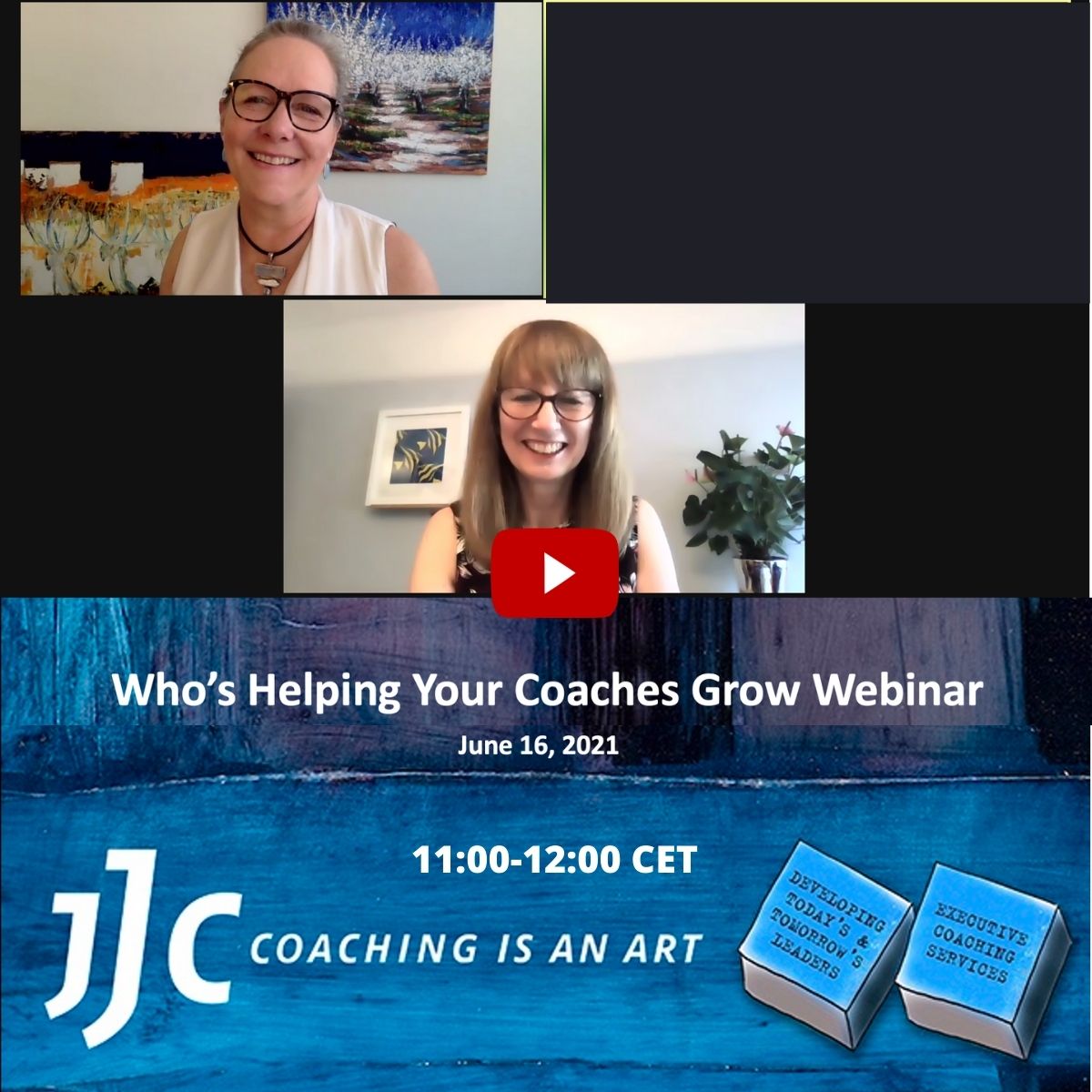 Here are just a few of the points discussed during the webinar:
What IS coaching supervision?
How is coaching supervision different than coaching?
What types of themes are brought to supervision?
What important ethical themes are unique when using internal coaches?
Is it ethical to not give coaching supervision?
Enjoy!
By the way, if you are interested in coaching supervision, please email julie@julie-johnson-consulting.com. We have special offer for you.