Team Coaching - I own this conflict too
Guest Blogger Peter Hård – Certified Team Performance Coach, Faculty at Team Coaching International (TCI), ICF Subject matter Expert on Team Coaching
Meet Peter at JJC's 'Team Coaching Webinar entitled 'So You Think You Have a Team?' on September 16, 2021 at 11:00 CET.
My client, the leader of a team based in Asia, called me to meet with his CHRO. We were up for team coaching with this global team but the CHRO wanted me to understand that there was something that could be a hinder to the process. There was a critical tension between two people from the same country: A man in his 50s and a younger woman. He was her former boss, and now she had been promoted and had become a peer. This change had been hard for the man to deal with, and he was constantly treating her in a way that made her feel unappreciated. Small things like non-verbal signals, and negative words about her to others in the team were in play by the coffee machine.
The team members had a huge respect for the man although he was not the formal team leader. The formal leader - a western European man - did not notice all of the slights, but had understood what the current situation created. The CEO and The CHRO asked me to see what I could do about the situation under the team coaching hat.
At the first session, nothing really happened that divulged the situation described by the two leaders. It started appearing suddenly and vaguely during the team coaching journey. I started interviewing all the team members - including the combatants - on what was creating their fundament for trust and respect, for safety and openness. The man in the conflict was at first very silent and did not reveal anything at all about the conflict. The woman on the other hand, revealed a lot of feelings. I reminded myself that as team coaches we are not there to "fix" things, and that there might not even be "a thing". There could instead be assumptions, or areas that need focus other than what was first put on the table.
During lunch at one of the team sessions I managed to get both parties at the same table. I asked them about former success stories in their earlier life. After initial reluctance they soon started to share some stories, and you could notice a smile or a nod from the other when stories were told. I queried them about their free time, families, values, interests and found out that this was the first time that they had shared most of these things with each other. Later I had individual walks with each of them to talk about - if they would have an opportunity to coach this team - what they would take a look at first. I couldn't help but notice that the ice had started to melt. I was not there to tell them what to do or to make decisions, but instead to find out driving forces, interests, thoughts, angles and perspectives of collaboration at large. I sensed that they were seeing me as a confidant, rather than a spy with all of my questions.
At the last team coaching session (about 6 months in) we used a feedback exercise where each team member shared with each other what they had seen the other do well during the coaching process, and what they had come to value in the other. When the time came for team members to give feedback to the man in the conflict, his former report was the first one to speak. Standing next to him, she said (as tears started to appear) -"I do not always agree with your ways of working and we do have our different views, but I have come to really respect your professionalism, your experience and your way of…" Then she paused and just put her arm on his shoulder. You could hear the silence. What happened next was incredible … the man's eyes watered up and he, while sitting, leaned towards her, touching her arm with his head…
The whole team flew up from their chairs and surrounded the two colleagues. They threw themselves into a huge group hug, laughing, crying, hugging… and the leader looked at me with an open mouth, shook his head, and went to the team patting each on their backs.
After a few minutes all were back in their seats, red faced, and smiling.

Hey team! Now I know what is next…we are going to open a branch on the moon and Team Coach Peter is coming with us! The laughter that followed really made my heart smile and got me thinking about how challenging it can be. Why do we sometimes limit ourselves from being the best we can be, because we are so afraid of losing our position or of being judged by others?
A team is responsible for the conflicts within it. By allowing a conflict to continue, team members carry part of the responsibility for its solution. Having a clear purpose, an agreement on conflict management and a discussion on what attitudes and behaviors will support the team are fundamental cornerstones. So is setting the scene for fruitful, candid, open conversations. We are the team we have been waiting for - we have just not yet found our way forward. Team coaching helps teams create that needed space and maximize the output of the collective.
___________________________________________________________________________________________________
JOIN JJC's TEAM COACHING WEBINAR entitled 'SO YOU THINK YOU HAVE A TEAM?' ON SEPTEMBER 16, 2021 at 11:00 AM CET
REGISTER NOW!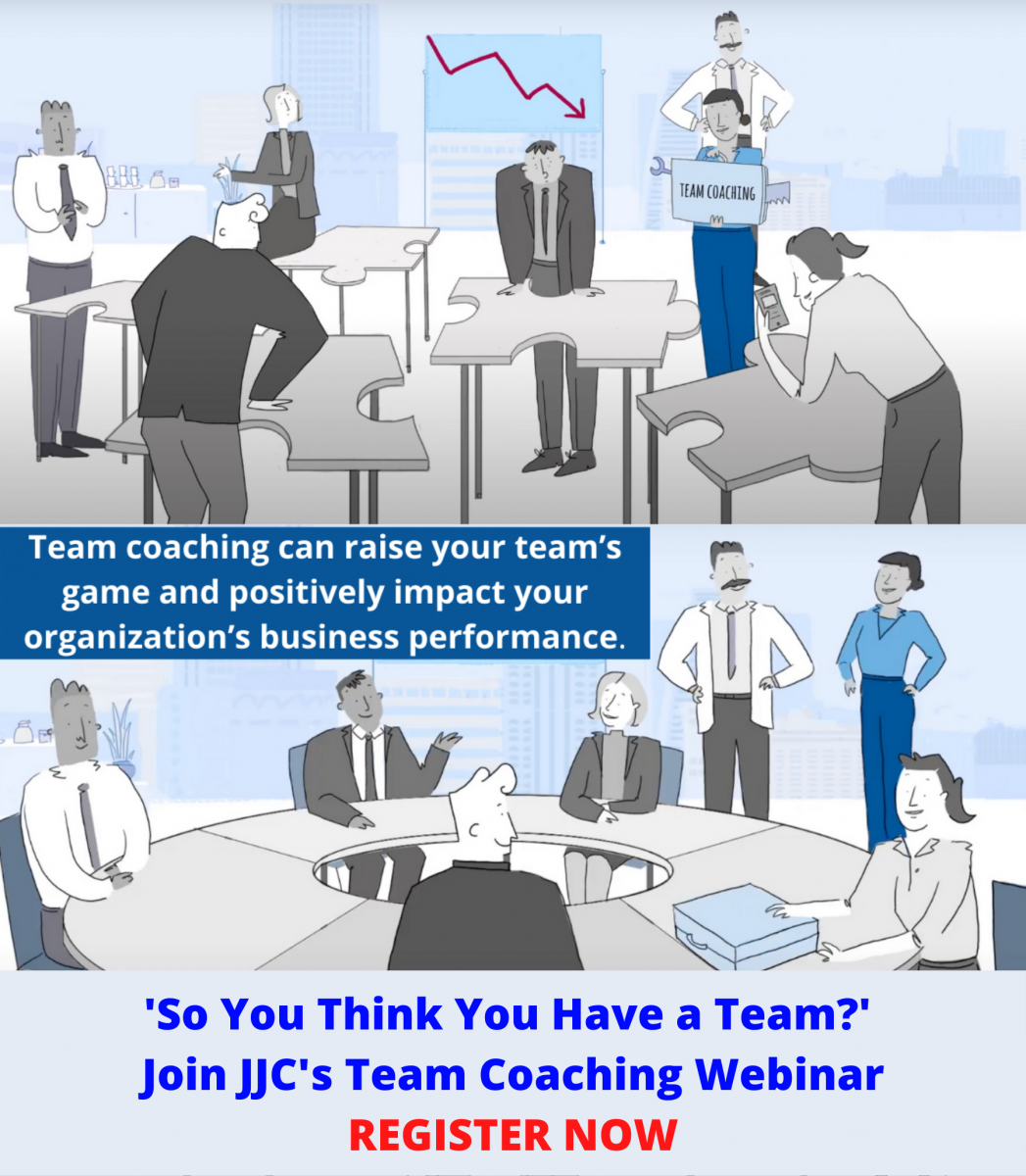 JJC's TEAM COACHING WEBINAR REGISTRATION FORM
(Scroll down to fill-up the form)